CNA: More Companies Helping Staff Make Better Use of Annual Leave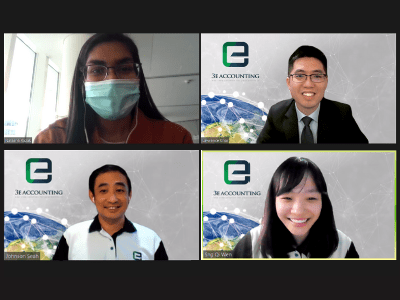 As COVID-19 closed borders and impacted the jobs and livelihoods of many, 3E Accounting Founder Lawrence Chai shared with Channel News Asia how 3E Accounting is helping employees through this difficult period by allowing the carrying forward of unused leave for 2 years compared to 1 year previously.
Supporting Workers During Challenging Times
With a steadfast belief that it is the responsibility of an employer to support workers during unprecedented times, Lawrence implemented a special provision scheme to allow 3E Accounting employees to carry forward unutilized leave for 2 years. This meant that employees who are unable to utilize their 2019 leave, will be permitted to carry forward into 2021. The introduction of this special provision will support our employees by not forcing them to clear their leave or risk having it forfeited.
3E Accounting consultant Sng Qi Wen shared with Channel News Asia that this special provision was implemented at the right time for her as she will be qualified for SkillsFuture credits in 2021. By carrying over her remaining three days of 2019 leave and combining it with her fourteen days of 2020 leave into the year 2021, she will be able to take on courses of her personal interests.
Feasibility of Leave Encashment Option
As more companies are helping their employees make better use of their annual leave, many businesses are turning to alternatives to converting leave to cash or allowing employees to carry forward unused leave. Lawrence highlighted that encashment of leave may not be a suitable option for SMEs as cash flow is necessary for businesses to sustain through this pandemic. As cash is required for business continuity, SMEs should consider the option of carrying forward unused leave for their employees. While some businesses are concerned that carrying forward of leave will be booked in as a liability on their balance sheets, from an accounting standpoint, this will ultimately be recorded as an income when employees utilize them next year. At 3E Accounting, we accepted this liability on our balance sheets because the firm is committed to promoting work-life harmony among our employees.