3E Accounting Nominated For UN Women 2020 Asia-Pacific WEPs Awards
3E Accounting is delighted to be recognized as a true champion of gender equality by the United Nations (UN) as a nominee at the UN Women 2020 Asia-Pacific Women's Empowerment Principles (WEP) Awards. As a socially-responsible business with progressive and fair employment practices, this is an affirmation of the responsibility and care 3E Accounting extends towards our staff and stakeholders.
UN WEP Awards aim to encourage, value and recognize the efforts of individuals and businesses that promote gender-inclusive workplace cultures and the attainment of gender equality. This is guided by a set of 7 principles:
Establish high-level corporate leadership for gender equality
Treat all women and men fairly at work – respect and support human rights and nondiscrimination
Ensure the health, safety and well-being of all women and men workers
Promote education, training and professional development for women
Implement enterprise development, supply chain and marketing practices that empower women
Promote equality through community initiatives and advocacy
Measure and publicly report on progress to achieve gender equality
3E Accounting addresses gender equality through a comprehensive company-wide strategy, covering remuneration, performance appraisal, flexible work arrangements, protection from workplace harassment, whistleblowing channel as well as career development opportunities across verticals and across our Singapore, Malaysia and Hong Kong offices.
Employee as the Company's Greatest Asset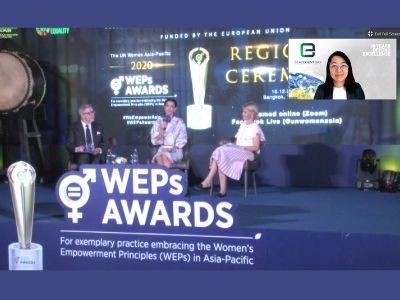 Across the entire employment journey, employees are well covered from candidate selection to hiring, training and promotion. Across life stages, employees also enjoy benefits such as maternity leave, paternity leave, flexible working hours and family care leave which enables them to balance and manage the multiple varied roles they play at each phase.
As the company's greatest asset, happy employees are more productive and take greater responsibility for their duties. This leads to the enhanced client experience as well as positive workplace culture.
Keen to take your business to the next level? Check out our advisory services here.